HotSpot PLUS
Thermocouple Welder
by

DCC Corporation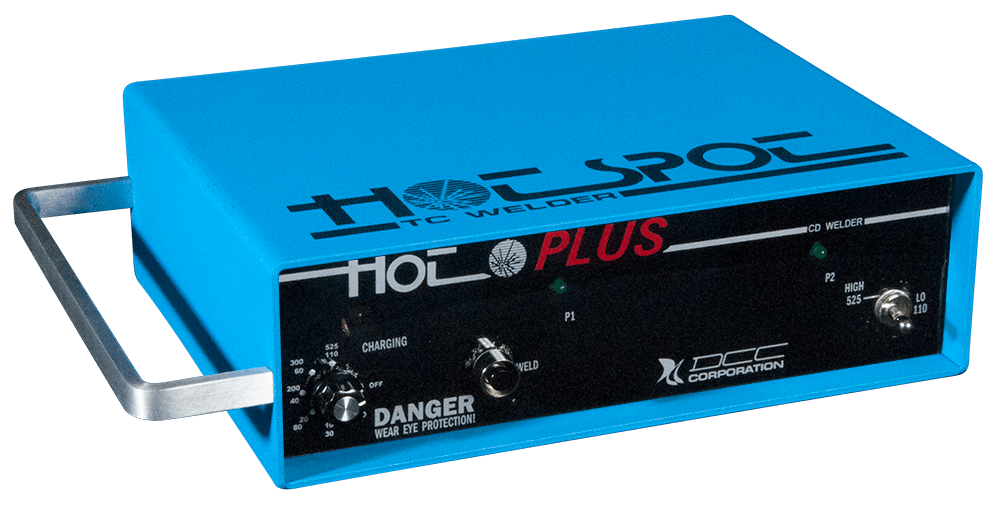 The HotSpot Plus has significantly increased power rating and offers heavier wire and stud welding capability along with single hand operation and an optional foot control. Available fixturing and welding attachments facilitate simple spot welding, stud welding, and pin welding modes in addition to thermocouple welding functions.
In The Box HotSpot PLUS Heavy Duty Welder (5 to 525 watt/sec) HotSpot PLUS welder and Metal Case, Handheld control and attachment cable, Standard 6in Wire Holding Pliers, Eye shielding protective goggles, Carbon block, Grounding magnet, Instruction Manual
Compare with Other Models
Voltage Rating

220 V ($50.00)
120 V
Height

3.5 inches
Width

8.5 inches
Depth

11.5 inches
Weight

18 lbs
Stored Weld Energy

5 to 525 watt/sec
Cycle Time

Charging time at maximum energy setting is less than 10 seconds
Controls

Energy adjustment control; energy range switch; welding discharge via front panel button switch or handheld control. Optional foot switch.
Power

Uses 120 VAC 60 Hz line power (220 VAC 50 Hz optional) Circuit protected by 1.5 amp breaker
Product Type

Heavy Duty Thermocouple Welders
Weld Capability

Welds wire pairs of #12 gauge or finer, and #10 or lighter studs, and #10 pins
CONTROLS, INDICATORS, & OVERLOAD PROTECTION
The HotSpot Plus is designed to handle the attachment of heavy wires, light gauge studs and weldable pins to metal surfaces. It can also close larger tubes than the HotSpot II unit and aid in wire harness strap spot welding and insulation blanket installation. Its controllable weld energy capability matches the needs of strain gauge attachment applications.
The HotSpot Plus is powered from the AC line through an isolation transformer and stored energy level circuitry. Front panel indicators and controls allow the operator to easily monitor the status of the unit, determine the level of energy to be transferred to the storage capacitors, and initiate a weld cycle.
The maximum power output of the HotSpotPlus is approximately 500 Joules. The power level is set by the position of the front panel control knob. The power ranges, high or low, are selected by a two position toggle switch. Initiation of the welding discharge is controlled by a front panel snap action push button switch, a similar companion switch on the hand tool accessory holder, or an optional foot switch.
The power range switch and energy level control set the voltage to which the energy storage capacitors are charged. Peak voltage on the low range is approximately 35 VDC and on the high range 75 VDC. The stored energy is proportional to the square of the capacitor voltage. Increasing the setting of the control knob will cause the capacitor to be charged to a higher level. However, decreasing the setting will not immediately reduce the value already stored, so a welding cycle will always release an energy pulse equal to the highest power setting since the last recent discharge.
A resettable circuit breaker in the primary AC line is accessible on the unit's back panel and protects against damage from internal circuit shorts and similar fault conditions.